20 recipients from the Universities gets awards from Huawei ICT Competition 2021-2022
Huawei Sri Lanka together with Sri Lanka Inventors Commission (SLIC) recently accoladed the top twenty national winners among the Sri Lankan University talents who excelled at the Huawei ICT Competition 2021-2022 titled "Connection-Glory-Future". The twenty winners were from seven different universities, and the first prize of the each track went to University of Moratuwa and Rajarata University of Sri Lanka. The awarding ceremony was graced with presence of State Minister of Skills Development, Vocational Education, Research and Innovation Dr. Seetha Arambepola, Commissioner of Sri Lanka Inventors Commission, Prof. N. M. S. Sirimuthu, Huawei Sri Lanka CEO Liang Yi, officials, and the participated universities.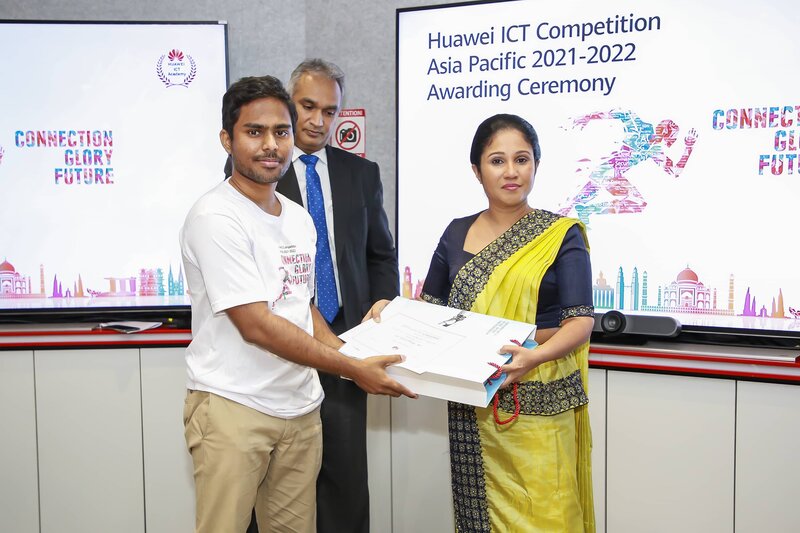 The winners from Sri Lanka will form two teams to represent Sri Lanka during the regional phase of the Competition in this year and compete for the grand prize globally. Huawei ICT Competition 2021-2022 is the country's most competitive first ever ICT knowledge competition that gives opportunity for Sri Lankan University students to take part at a regional and global level conducted by the global leading ICT company. In Sri Lanka, Huawei ICT competition drew 247 competitors from 29 universities, enhancing the students' ICT knowledge as well as practical and application skills, and ultimately, inspiring innovation which will be mandatory to the future growth of Sri Lanka's ICT industry.
State Minister of Skills Development, Vocational Education, Research and Innovation Dr. Seetha Arambepola said that "ICT talent development among the schools, colleges and universities from early stages of education is a key in the modern era as the ICT industry is connected with technologies that we use in our day to day life and that as a result most of the future demand for jobs will be created in the ICT industry".
She went on to say that "Sri Lankan government and the President His Excellency Gotabaya Rajapaksa's vison is that ICT talent is one of the key elements to drive digital economy and therefore the local talented youth must have globally recognized and internationally acclaimed qualifications in the ICT sector to take Sri Lanka to become a Smart Digital Economy. In this regard she pointed out that access to education as well as ICT education is vital to creating opportunities that support fair and sustainable development.
"Today I'm delighted that our university students are given a competitive edge to compete in a global scale to update their knowledge in ICT domain with the support of this initiatives" She said.
We are grateful to see Huawei has taken this initiative of Huawei ICT Competition 2021-2022, and I would like to see further cooperation of this kind to enable our youth talent to shine in the global ICT industry" Minister Dr. Arambepola said.
She explained that there had not being an upgrading in teaching and technology in many industrial training institutions for decades and added that modernization of vocational and technical training was paramount to develop industries in the country, and further Huawei coming forward to establish an NAITA-Huawei ICT Academy last year in collaboration with National Apprentice and Industrial Training Authority (NAITA) for Vocational Training is an important step towards upskilling Sri Lankan youth talents to prepare for future demand of the ICT & Telecommunications Industries. Minister reassured Huawei of 'the full support of the Government' of Sri Lanka, for the initiatives that the Huawei is implementing in the development of ICT and the transfer of competence in Sri Lanka.
Commissioner of Sri Lanka Inventors Commission, Prof. N. M. S. Sirimuthu highlighted on the need for cooperation between Universities and corporates: "The ICT competitions will encourage our students to study from the business perspectives and prepare them for their future inventions after they graduate from universities. We sincerely wish that more students and companies can join in the initiatives to gradually uplift the skills development for our next generations." After the event, the Sri Lanka Inventors Commission will enhance future cooperation with Huawei with regards of ICT competitions.
"As a leading ICT solution provider Huawei Sri Lanka considers one of our top priority is future-proofing the Sri Lanka's digital economy through scaling the youth talent pool. Whilst Sri Lanka's universities continue to produce talented ICT practitioners that have supported the country's economic progress so far, we believe the demand for scenario-specific ICT solutions is accelerating and thus, we must continue investing in talent development to ensure that ICT companies have access to the qualified personnel they need to pursue their transformation goals" Huawei Sri Lanka CEO Liang Yi said.
"We have been committed and dedicated to ICT knowledge transfer to Sri Lanka youth talent over the last decade through various initiatives such as joint innovation centres with top universities, telecom engineer training, Seeds for the Future and other initiatives" Liang Yi said.
Huawei together with SLIC invited Universities with relevant majors to participate in the Huawei ICT Competition 2021-2022. The competition targeted to provide students with a platform to compete and acquire certification in order to enhance their ICT knowledge, practical and application skills, and raise their innovation awareness. Additionally, the competition provided a platform that facilitates connections between international ICT talents as well as fosters collaboration between Huawei Partners, Institutions of Higher Learning, thereby enhancing education growth advancement of ICT talent and promoting the employability of students. The competition was conducted in 2 Stages. The Learning Competition and Innovation Competition.
In Sri Lanka Huawei, has initiated longstanding programs such as the Huawei ICT Competition, Seeds For the Future, and ICT Academy to support Sri Lanka in building a sustainable knowledge-based digital economy. So far many local talented youth in Sri Lanka have benefitted from advanced skills development courses to date, equipping them with the necessary skills to lead digital transformation and development efforts in the country.