The Huawei ICT Competition 2021–2022 Global Finals kicked off today at Huawei's Bantian Base in Shenzhen, China. This year's competition, focused on the themes of "Connection · Glory · Future" and featuring the slogan of "I.C. The Future", attracted 150,000 students who represented over 2000 universities and colleges in 85 countries and regions. A total of 132 teams from 43 countries and regions made it to the Global Finals after battling it out at their respective country-level and regional competitions. Huawei hosts the ICT Competition annually to provide students with a platform to compete and exchange ideas, enhance their ICT knowledge and practical skills, and foster their capabilities to innovate by using new technologies and platforms.
This year marks the sixth year of the Huawei ICT Competition. There are three racks to the competition, Practice, Innovation and Industry, with the Practice section further split into two sub-tracks — Network and Cloud. In this track students' ICT knowledge, hands-on skills, and teamwork are all put to the test. In comparison, the Innovation track has students build solutions with significant social and business value using technologies such as AI, IoT, big data, cloud and mobile Internet. Finally, this year's newly introduced Industry track focuses on smart road scenarios to encourage students to resolve real industry challenges and deliver business value through innovative solutions using their ICT and industry knowhow. This year's Global Finals will be held online due to the ongoing pandemic. The Practice track final consists of 8-hour lab exams and the Innovation and Industry track finals will consist of presentations from participating teams on their solutions and follow-up Q&As from the judges. In addition, this year's participants will be the first to compete for a new series of Women In Tech Awards which have been designed to honor the outstanding talent displayed by the young women leaders in the competition.
Steven Zhu, Huawei Enterprise's President of Partner Development and Vice President of Global Partner Development and Sales, kicked off the opening ceremony by saying, "ICT industry development will require a large number of highly skilled ICT experts. Huawei is trying to build education, industry and public talent ecosystems while improving digital skills across society so that our industry can flourish. As an important part of Huawei's efforts to build an education talent ecosystem, the competition is essential for promoting equitable and high-quality education."
Peter Wells, Chief of UNESCO's Section for Higher Education, also spoke at the event via a video message praising the competition's ability to give students around the world free access to educational courses and study materials, as part of their preparation for the competition. He ended his address on how he hopes UNESCO and Huawei will work together to improve the digital skills and technological literacy of global talent, promote balanced and equitable development across regions, and bridge digital divides around the world.
Finally, Sun Gang, Huawei's Director of Talent Ecosystem Development, who attended onsite closed out the ceremony by wishing the contestants good luck and saying he looked forward to seeing how the students would showcase their ICT knowledge and skills, and encouraged them to use ICTs to transform our lives, create a better digital future and contribute to human development.
The Innovation Competition as well as the closing ceremony of the Global Final will be broadcast live. This live broadcast event will also include the launch of Huawei's newest Talent Cultivation Solution, the Huawei Academy Talent Training Platform. The closing and award ceremony will be held on June 25th. For more information about the Final, please visit: https://e.huawei.com/topic/huawei-ict-competition2021-2022-global/en/index.html
–End–
Photo captions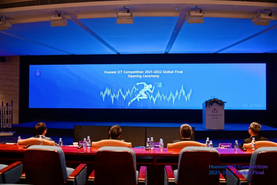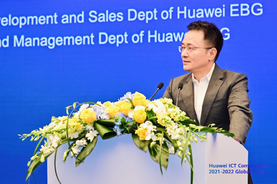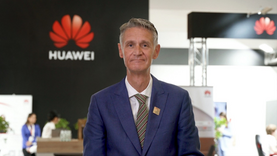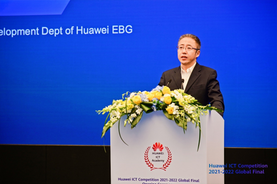 About Huawei
Founded in 1987, Huawei is a leading global provider of information and communications technology (ICT) infrastructure and smart devices. We have 195,000 employees and we operate in more than 170 countries and regions, serving more than three billion people around the world. Our vision and mission is to bring digital to every person, home and organization for a fully connected, intelligent world. To this end, we will work towards ubiquitous connectivity and inclusive network access, laying the foundation for an intelligent world; provide diversified computing power where you need it, when you need it, to bring cloud and intelligence to all four corners of the earth; build digital platforms to help all industries and organizations become more agile, efficient, and dynamic; and redefine user experience with AI, making it smarter and more personalized for people in all aspects of their life, whether they're at home, on the go, in the office, having fun, or working out. For more information, please visit Huawei's official website: www.huawei.com